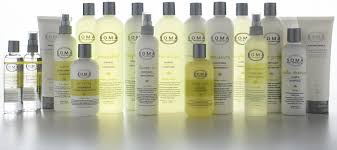 This fully vegan line has incorporated the most sophisticated plant ingredients to give superior results over conventional professional product lines. All of the ingredients go through stringent testing to ensure quality. Ingredients are quarantined and tested to meet their compliance. Stability, purity, and testing for micro-organisms are just a few of the quality assurances given to each and every ingredient. No compromise is made, thus providing the consumer the most scientifically safe product available. All SOMA products are formulated with a paraben-free and formaldehyde free preservative. This preservative is one of the only globally approved preservatives available and provides yet another reassurance that SOMA Hair Technology products are safe and offer no toxic hazards.
---
MOISTURE SHAMPOO
Keep your hair hydrated and healthy with superior moisture from Soma's Moisture Shampoo. Made with Hydrolyzed Wheat Protein: A moisturizing complex that penetrates the hair cuticle, drawing up to four times its own weight in moisture to quench your hair. Nourish your hair and preserve your color with this Sulfate-Free Shampoo.
---
MOISTURE CONDITIONER
Infuse new life into damaged hair and let it shine with superior hydration, luxurious color, and no more tangles. Made with Acetamidopropyl Trimonium Chloride: An earthly derivative with improved Humectant properties to retain moisture. Contains no silicones, so even the finest of hair won't be weighed down.
---
WEIGHTLESS SHAMPOO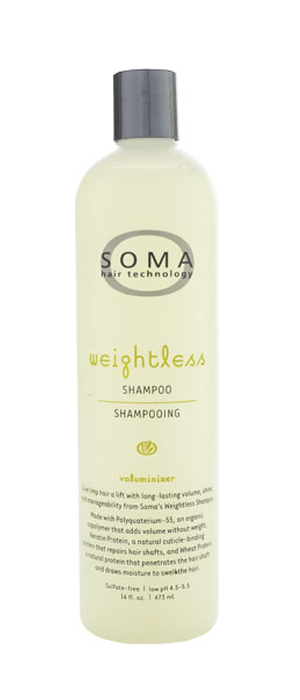 Give limp hair a lift with long lasting volume, shine, and manageability. Formulated with Polyquaterium-55, a vital copolymer that adds volume without weight, Keratin Protein, a restorative cuticle binding protein for hair shafts, and Wheat Protein that penetrates the hair shaft and draws moisture to swell the hair itself. This shampoo is Sulfate-Free and helps preserve hair color.
---
WEIGHTLESS CONDITIONER
Those with fine hair can finally use a conditioner without worrying about adding weight. This lightweight conditioner still packs a punch with excellent conditioning proteins and botanicals to keep hair healthy and luminous.
---
COLOUR PROTECT SHAMPOO
Give your hair color a boost of vibrancy and up to six more weeks of freshness. As with all Soma shampoos, the pH range is between 4.5 to 5.5 to guarantee that your hair cuticle remains closed – locking in color. This Sulfate-free shampoo detoxifies hair while providing integral proteins to ensure a healthy post-color recovery.
---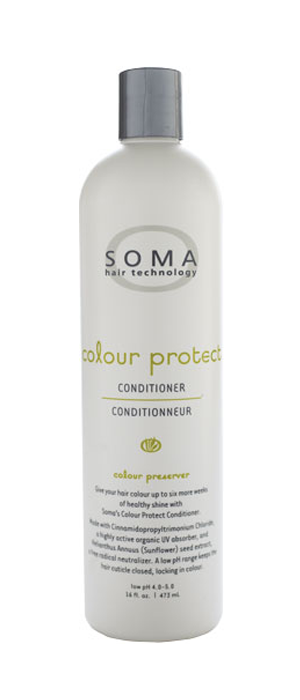 COLOUR PROTECT CONDITIONER
A major contributing factor of fading color is UV degradation. To reverse this, Soma has added Cinnamidopropyltrimonium Chloride, a crucial, highly-active, UV absorber, and Helianthus Annuus (Sunflower) seed extract a free radical neutralizer. Color Protect Conditioner instantly improves hair condition with essential oils and proteins.
---
CLARIFYING SHAMPOO
A professional, deep cleansing shampoo created to remove all buildup and trace materials from styling products – all while keeping hair colour as it's meant to be. Ideal for swimmers to eliminate chlorine stains.
---
SILVER SHAMPOO
An improvement on our Color Protect Shampoo, this product transforms gray or blonde hair into a vibrant, bold look – without a brassy finish. Best for natural blondes or natural gray/silver/white hair.
---
SCALP THERAPY SHAMPOO (Dandruff/Psoriasis)
Get relief from itching, irritation, redness, flaking or scaling associated with Dandruff or Psoriasis. The active ingredient is long- proven coal tar liquid (2% strength). Although it works exceptionally well on scalp irritations, its unique formulation is made to be very gentle on your hair. It won't strip or stain color and is designed to promote hair health. It may not smell like mom's apple pie, but it sure works!
---
LEAVE-IN CONDITIONER
Undo damage caused by coloring, hot tools, and UV rays and revitalize your hair. Made with organic Keratin Protein, a natural cuticle-binding protein that replaces lost acids, and Cinnamidopropyltrimonium Chloride, a highly active UV absorber. An alcohol-free detangler that will not weigh down even the finest of hair. Protects your hair year round.
---
RECONSTRUCT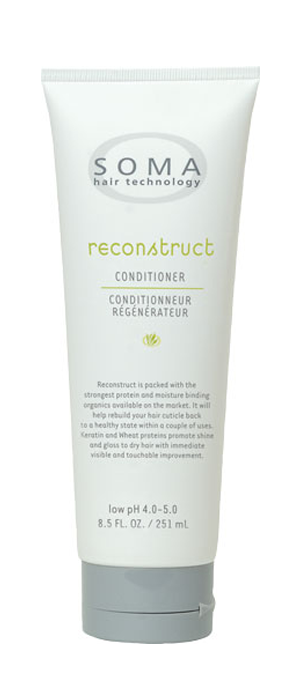 There is nothing too challenging for this conditioner. Reconstruct is packed with the best proteins and ingredients available on the market to heal hair cuticles with just a couple of uses. Revolutionary permanent-bond formers such as Keratin and Wheat proteins carry an abundance of amino acids to promote shine and gloss to dry hair – with immediate improvement you can see and feel.
---
CURLY CUE ENHANCING GEL
Enhance everything – from slight waves to full-on curls – while adding moisture, enhancing shine and eliminating frizz. This non-resin based, alcohol-free gel uses hair's natural humidity to pull up the curl, leaving it soft and shiny. Curly Cue won't flake and is humidity resistant.
---
FINISHING SPRAY
Can your finishing spray maintain maximum hold without weighing your hair down? Provide luster with low alcohol levels? Or protect hair with proper pH levels? This one does.
---
WAVE SPRAY GEL
Intensify curls, tame frizz, and maintain moisture with this humidity-resistant gel. Perfect for use with hot rollers, Velcro curlers or a diffuser. Pull your curls up and feel like there's nothing in your hair at all with this alcohol-free spray gel.
---
FOAMING MOUSSE
A weightless, alcohol-free, pH-balanced mousse that adds body and volume to flat hair, while providing a vibrant shine.
---
GRAVITY HAIR STRAIGHTENER
Formulated to straighten coarse, curly or wavy hair. Anti-frizz and protein complexes leave the hair soft, smooth, and shiny while remaining resistant to humidity. Made with Hydrolyzed Wheat Protein, a thermal protector and frizz eliminator.
---
PRISM SPRAY SHINE
Recharge fading colors, supercharge highlights, protect your hair from humidity and static fly-aways: All with Prism Shine Enhancer. Its lightweight and non-greasy pure silicones make Prism a great addition to flat iron styling.
---
SOLACE ANTI-FRIZZ
Close split ends and control frizz, while adding amazing shine and lubricity to unmanageable hair. A unique, alcohol-free blend of eco-rich silicones makes Solace a lightweight and non-greasy alternative for shiny hair without the hold.
---