Knowing your color palette is important. This doesn't go for just your wardrobe but also for your makeup palette and your hair color. Having the wrong tones can make you look washed out, tired, even sickly, but the right colors can make your eyes pop, your smile appear brighter, and your skin glow. Read on to find your true colors!
AUTUMN/FALL
People that land in the Autumn category are those who have darker, more olive skin tones. Their eyes vary in color from green, to hazel, to brown. Their hair color shades tend to be darker and warmer. When they highlight their hair, it should be to the Spring category so that the color doesn't get a washed out or frosted look. Many of the darker redheads fall into this category. Darker auburn and rich chocolate colors accent this season the best. When going lighter all over with their hair color, autumn people can jump to a spring category. Gold jewelry look best on Autumns.
There are 3 subcategories of Autumn: Warm Autumn, Deep Autumn, and Soft Autumn.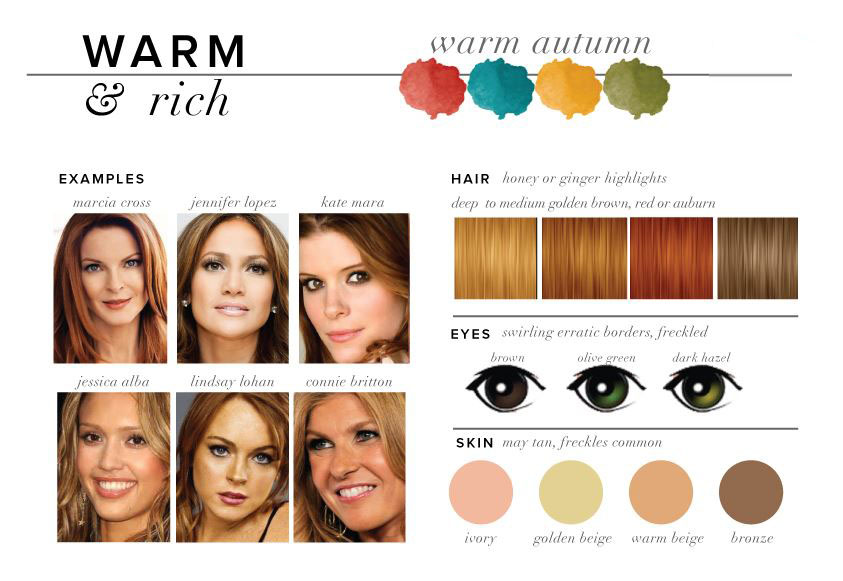 Warm Autumn is somewhat tawny, lower in contrast between eye, hair, and skin tone with warm yellow undertones.
Deep Autumn features are often high in contrast and at times they can borrow from deep winter. Their colors are slightly less warm and are the most pigmented of the autumns.
Soft Autumn is the most neutral of the autumn set. They have some underlying cool tones and their best colors are more muted, blended, and subtle.
NO AUTUMN should use try to use ash colors such as gray, silver, or white when adding highlights. Autumns NEED WARMTH!
---
SPRING
People that land in the Spring category tend to have warmer skin tones and light eyes. Most natural redheads are in this category. Theses reds tend tend to be more strawberry in color or lighter shades of auburn. Golden blondes in this category don't look "brassy" because warmer blonde is the tone that compliments their skin the best. Gold jewelry is the most flattering on this season.
Spring can be subdivided into 3 categories: Clear, Light, & Warm.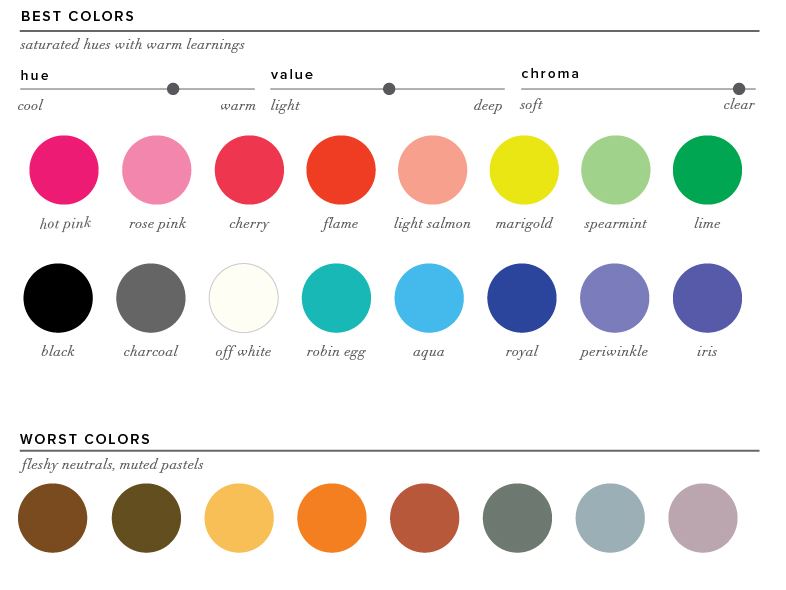 Clear Spring is the highest contrast of the Springs and have noticeable clarity in their features. They commonly have very bright and striking eyes that allow them to shine in colors that might overwhelm others. They border the Winter category and can wear colors with the intensity of the cool & brilliant season.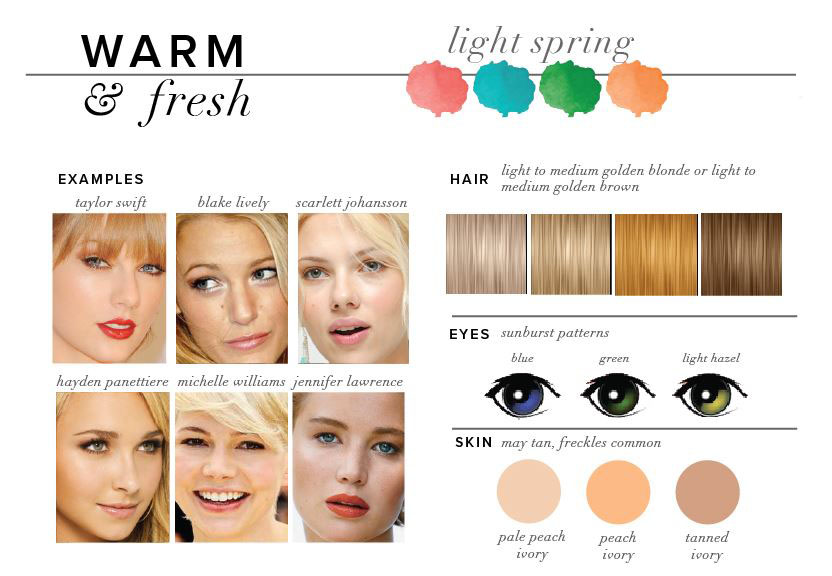 Light Spring may seem similar to Light Summer at first glance, but they have a subtle peachy undertone in their skin and a golden tint to their hair. What would be too weak for other categories brings out the inner glow of this category.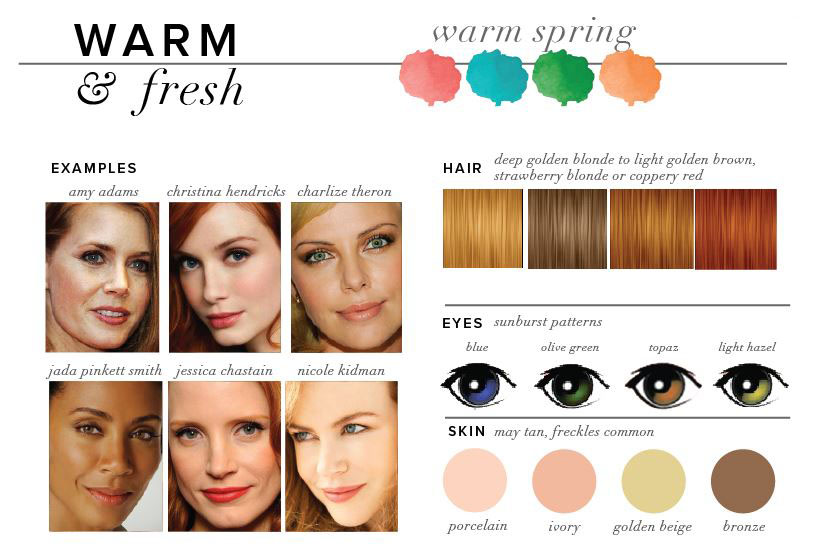 Warm Spring flows into the Autumn category. It's a warm and intensely saturated season. Orange and yellow thrive on this category that are dreaded to the cooler complexions.
NO SPRING should use try to use ash colors such as gray, silver, or white when adding highlights. SPRINGS NEED WARMTH!
---
WINTER
Those that fall into the Winter category tend to have really dark hair and light skin. Eyes can be either dark or light. Winter is a category of people who, if daring enough, could go all over blonde and change their season to Summer. Winter hair color tends to be flatter and cooler than the warmth of Fall. With the light skin tone anything warm against it will tend to look "brassy". Some African Americas land into this category as long as there isn't a lot of warmth in their skin tone. Winter looks fantastic in bold colors. Christmas reds and greens, bright purples and black compliment the best. Silver jewelry looks best on Winter.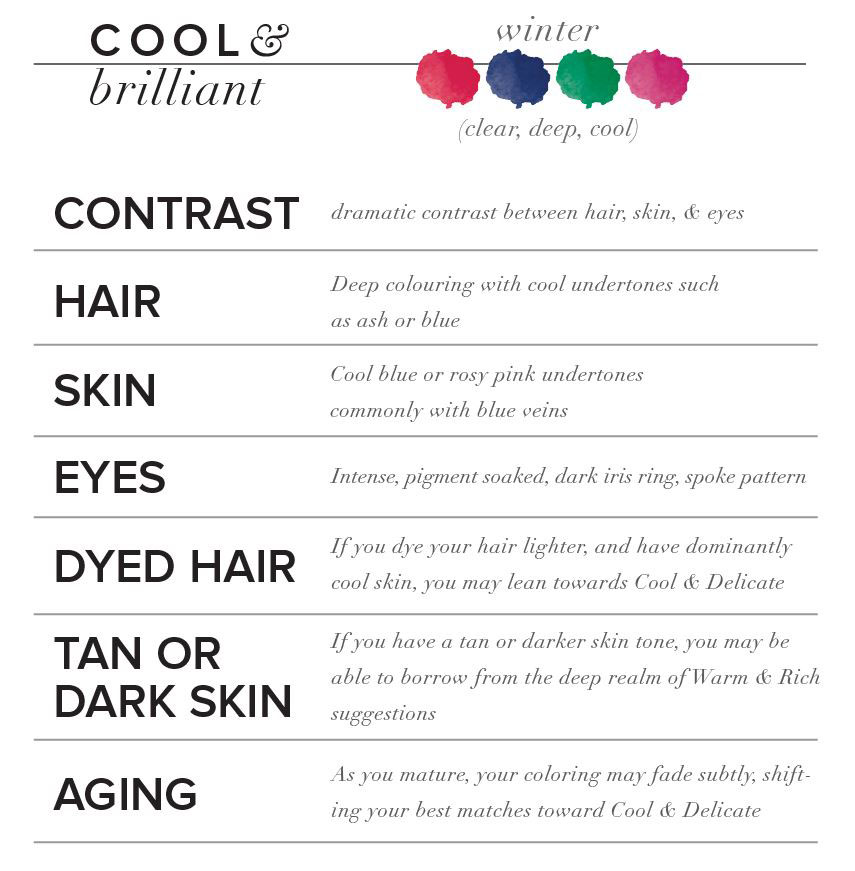 There are 3 subcategories of Winter: Clear, Deep, & Cool.
Clear Winters have the contrast typical of Winters, they also have a clarity in their features, reminiscent of Spring. They commonly have very bright and striking eyes that allow them to shine in colors that might overwhelm others.
Deep Winter, also known as Dark Winter, is set apart by its depth. The colors are cool, strongly saturated, and relatively pure.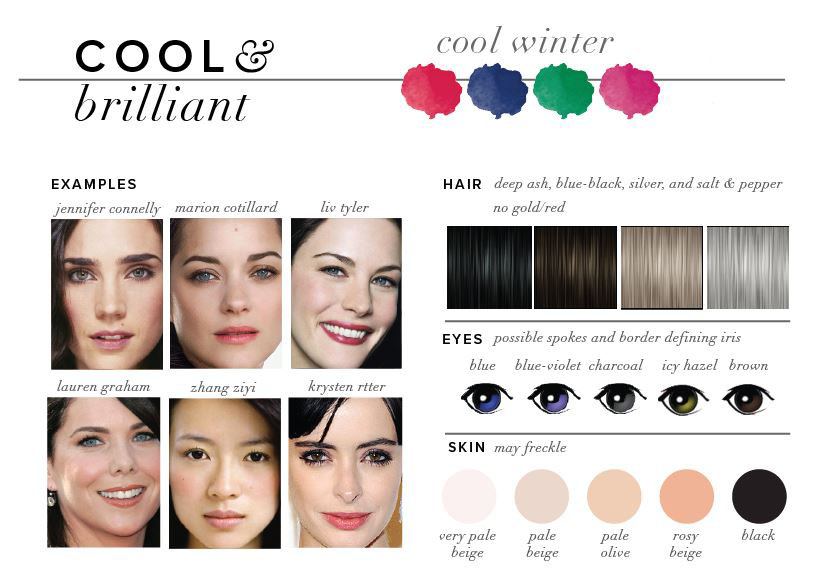 Cool or True Winter is flowing into the Summer category. It is the coolest of all the seasons and includes a bit of a blue undertone in each of its recommended colors.
---
SUMMER
Summers tend to have lighter eyes and paler skin. People that fall into the summer category tend to look best with lighter, cooler shades of blonde. This category of people look fantastic in "summer" colors such as aqua blues, anything pastel and blue based reds. Silver jewelry looks best. Summer makeup is normally cooler, frosted tones and paler lips.
There are 3 subcategories of Summer: Light, Cool, & Soft.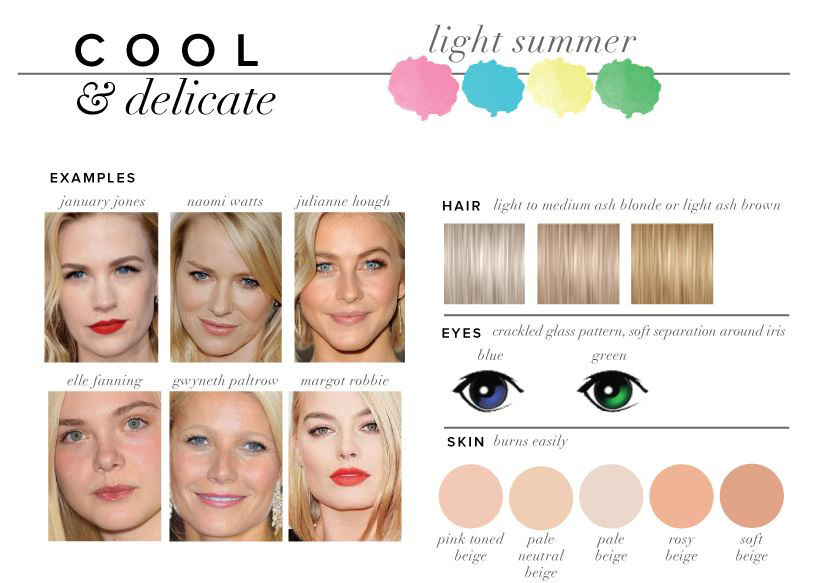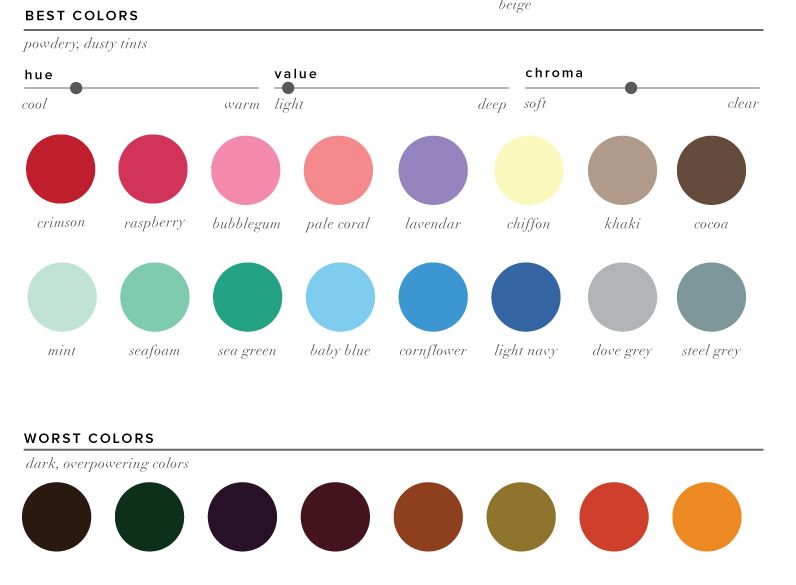 Light Summers have an ethereal quality to their complexions. They are very low in contrast and can wear pale colors that wash out others.
Soft Summer is the warmest of the Summer seasons, it is bordering the Autumn category and has a neutral quality rather than purely cool.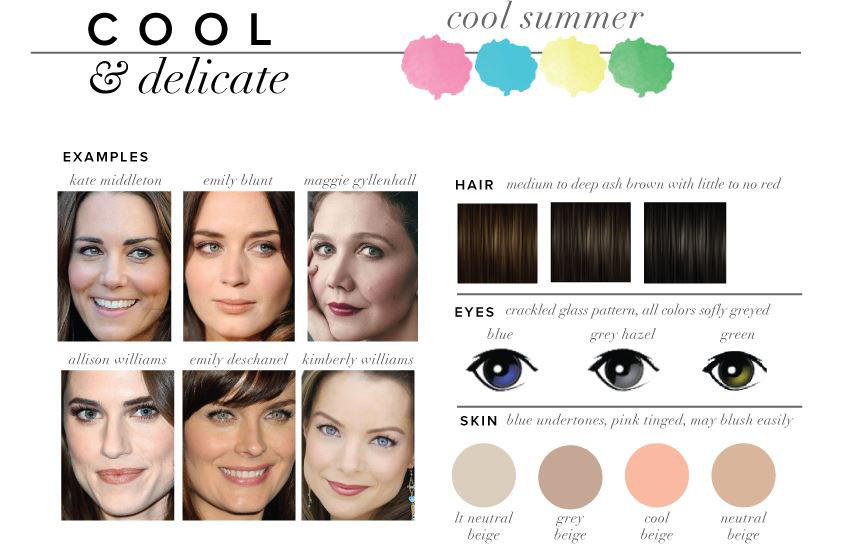 Cool Summer has more contrast than other versions of Summer, it is flowing into the Winter category and includes shades (colors mixed with black).
I hope this helps everyone find the right tones for their bodies palette. If you're unsure, feel free to bring it up at your next appointment and we can talk it through.
HAVE A GREAT HAIR DAY!!!